Dee Caffari names dinghy at Gosport children's sailing club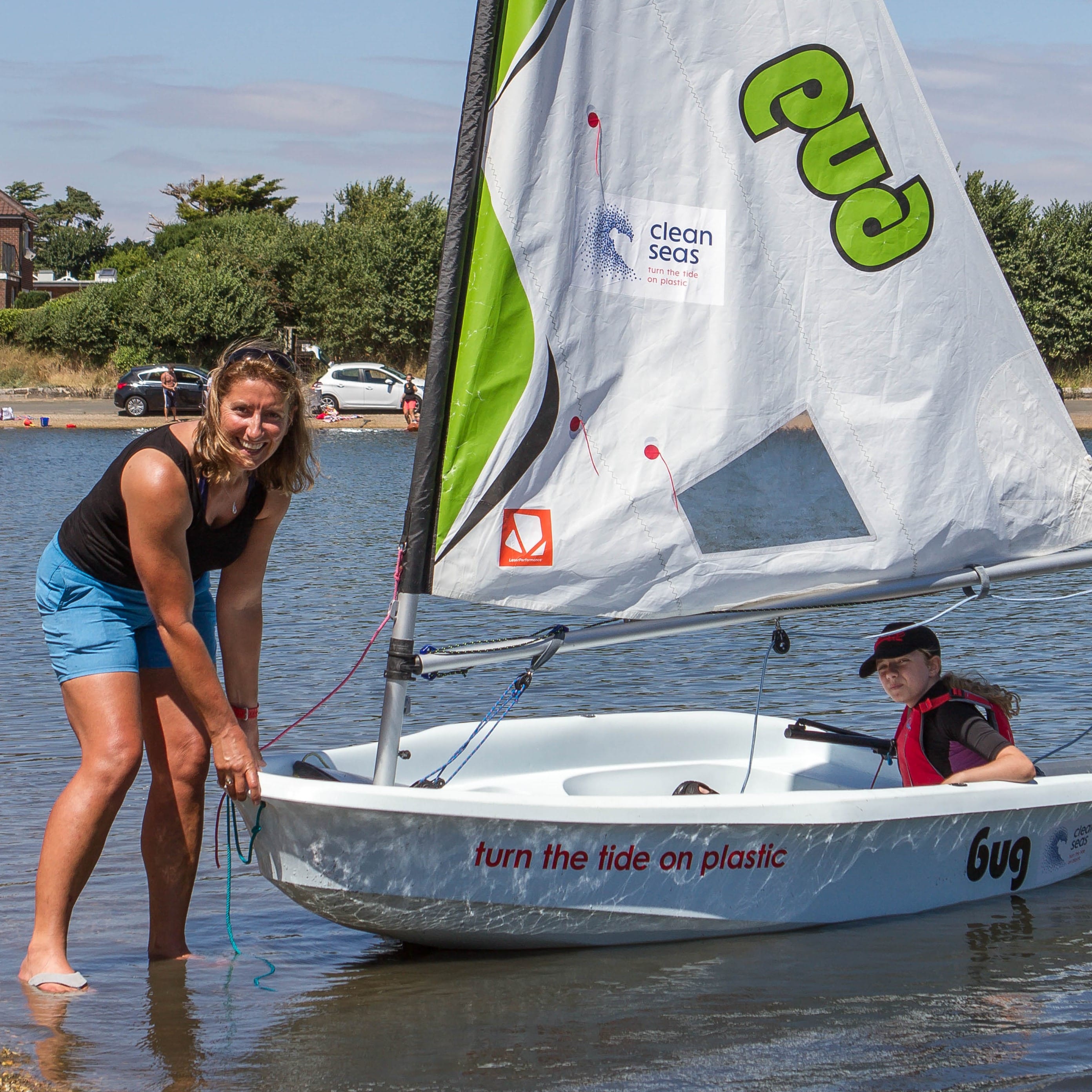 World famous yachtswoman Dee Caffari MBE has sailed around the world five times. She is the first woman to have sailed single-handed and non-stop around the world in both directions and the only woman to have sailed non-stop around the world a total of three times.
But she still supports grass roots sailing and, in her role as Patron of St Mary's Junior Sailing Club in Gosport, she delighted members and parents when she dropped in with her Springer Spaniel, Jack, to launch their latest boat. Appropriately enough, the boat, a Laser Bug, is called "Turn the Tide on Plastic" after the 65' yacht that Dee skippered in the 2017/2018 Volvo Ocean Race. "A bit smaller than what I have been used to" she remarked as 11-year old Lily Whiting sailed the boat away from the beach.
Sitting on the beach throwing a tennis ball into the water for Jack to swim and recover, Dee declined an offer to go sailing with the children. "I have been on the water enough recently" she laughed "and am happy watching you guys".
The worst part of her most recent voyage, which meant her being away from home for over a year, was seeing the amount of plastic that is now clogging up our oceans and threatening our wild life. "It is now up to your age group to campaign by spreading the word to your parents and friends" she told the club members who are aged 9 to 14. Each of the Club's boats now displays a Clean Seas sticker and the club has banned single use plastic water bottles from the premises.
During her visit to the Club, Dee returned Sizzles, the Alverstoke Junior School bear which accompanied her on her first single handed voyage in 2005/2006 and has been with her on three circumnavigations since. "He is an old hand and sat on the chart table helping us navigate" she joked as she handed the bear back to the safe keeping of Year 6 pupil Mollie Flanagan who will return Sizzles to school next term to await his next voyage.